Advanced CBD Oil
Broad Spectrum CBD Oil by Coseva
Nano-technology delivers CBD directly to the body's cells

5-10x more potent than regular CBD

Broad spectrum, containing beneficial terpenes with 0% THC

Ultra-pure and contaminant-free

Non-GMO, US grown, and 100% organically grown

Great tasting (reduced "hempy" taste)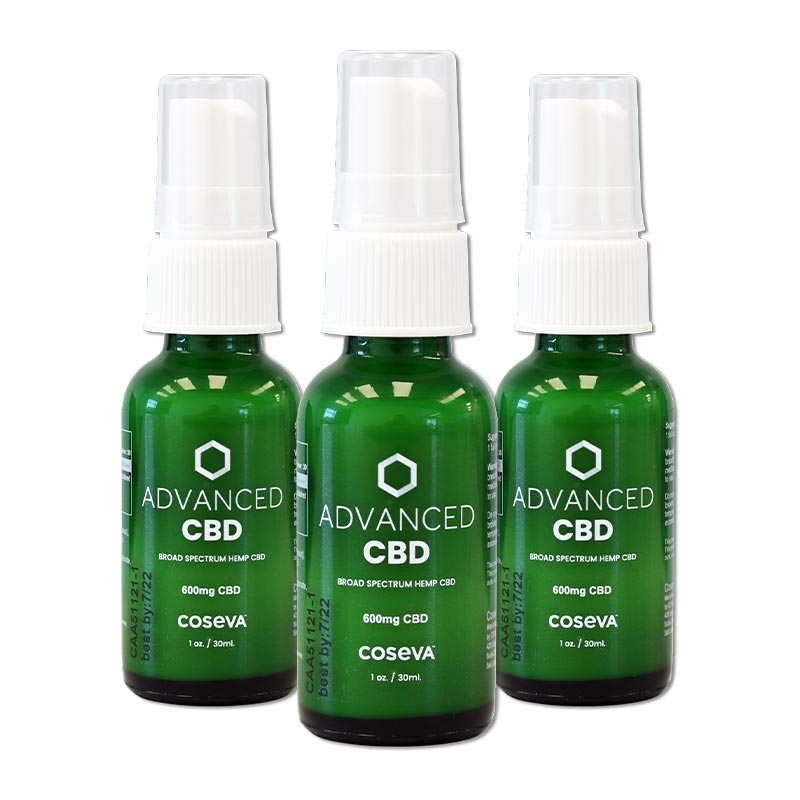 Relief and Relaxation
Promotes Balance for Body & Mind
Advanced CBD's novel formulation reacts with the body's endocannabinoid system at a molecular level to help promote balance and well-being.
By using nano-technology to more efficiently deliver cannabinoids, terpenes, and the other beneficial chemicals found in CBD directly to the body's cells, Coseva's Advanced CBD improves upon nature to create an improved product that is cleaner, faster-acting, and more effective.
CBD is a natural compound derived from the cannabis plant, which has been used for thousands of years to promote a sense of wellness and balance. Today millions of users across the globe use CBD, and in some cases, it may:
Reduce Stress (Without a "High")
Promote a Sense of Calm & Wellbeing
Soothe Aches and Discomfort
Support a Healthy Immune Response
Improve Sleep Quality
 
By applying our proprietary nanotechnology processes, Coseva enhances CBDs natural effects to deliver a sprayable product that maximizes the benefits of traditional CBD.
Our CBD is rigorously tested before it ever reaches our labs to ensure the maximum level of potency and purity possible. Additionally, each batch is then retested upon arrival at Coseva to ensure our Advanced CBD product is always 100% pure and free from the heavy metals, toxins, and other contaminants so often found in other CBD products.
Coseva's innovative Advanced CBD is truly a next-gen CBD product, maximizing purity and bioavailability while reducing some of CBD's traditional drawbacks.
Usage
Use daily for best results.
Take 2 sprays in the morning and 3 sprays in the evening by mouth.
Usage Warnings
Coseva always recommends that the individual consult with their physician before beginning use of any new product and to advise their physician of the use of any and all health or wellness products.
Advanced CBD is not medicine. Coseva does not engage in the diagnosis or treatment of diseases. Coseva cannot recommend specific uses for Advanced CBD, other than in assisting the body in its normal healthy processes.
KEEP bottles OUT OF REACH OF CHILDREN. Do not use if tamper evident seal is broken. Store at controlled room temperature (59°-86° F). Avoid excessive heat and humidity
What's Inside
30 mL per bottle, approximately 150 sprays
CBD – Broad Spectrum Hemp (0mg THC): 600mg per bottle, 20mg per serving
Other Ingredients: ultra-purified water, medium chain triglyceride oil (coconut), organic stevia leaf extract, organic sunflower lecithin, natural flavors, natural preservatives (sodium proprionate, potassium sorbate, citric acid).
0% THC

 

ORGANICALLY GROWN HEMP

 

NON-GMO

 
 *Manufactured in a facility that also processes soy, tree nuts, and egg.

Coseva 30 day Satisfaction Guarantee:
Because Coseva is committed to providing the highest quality product and experience, we offer a 30-day money-back guarantee. If you are not satisfied with your purchase, contact Coseva support within 30 days of the order to receive a refund.
Frequently Asked Questions
CBD, or cannabidiol, is a natural compound derived from the cannabis plant that has been used for thousands of years to promote wellness and balance. Today, millions of users across the globe use CBD, as in some cases it may: reduce stress, promote a sense of calm and wellbeing, soothe aches and discomfort, support healthy immune response, and improve sleep quality.
Advanced CBD is made with the same miracle nanotechnology used in Advanced TRS, which makes it easier for the body to absorb and use. This means you get increased bioavailability and an immediate effect you can "feel."
Additionally, Advanced CBD is made from the world's purest broad-spectrum CBD with Coseva's pharmaceutical-grade technology, contains 0% THC, and is organically-grown, non-GMO, and heavy metal and toxin free.
Coseva's Advanced CBD is a "broad spectrum" formulation, which means it naturally contains most of the beneficial cannabinoids, terpenes, and flavonoids extracted from the hemp plant, with the exception of psychoactive THC, which has been removed.
As opposed to CBD "isolate" formulations (which remove many beneficial parts of the extracted hemp oil), and "full spectrum" formulas (which include THC and may cause unwanted side effects), Coseva's "broad-spectrum" approach means you can feel confident in knowing your body is getting everything it needs while minimizing any potentially harmful or unnecessary side effects.
Coseva's Advanced CBD promises to always have 0% THC content. Our 0% THC CBD products are tested at several steps of the manufacturing process to ensure undetectable levels of THC.
In rare cases, it may be possible to trigger a false positive on a drug test when using 0% THC products due to other cannabinoid metabolites.
Coseva's proprietary formulas and nanotechnology processes enhance bioavailability, improve mixability with water-based beverages, and protects the important active compounds from degradation in storage and during transit through the stomach. Ours also has a much better taste!
The hemp used in making our product is non-GMO and organically grown using no pesticides. Each seed is hand-planted in an environment-controlled greenhouse in Utah, USA to produce the healthiest plants possible. Each manufacturing lot is 3rd Party Tested and confirmed to have 0% THC.
The variety of naturally found cannabinoids, terpenes, flavones and other things found in the broad spectrum hemp extract used in Advanced CBD supplements your naturally produced endocannabinoids. In today's stress and toxin-filled world many of our body's regulatory systems are weakened or depleted. Using cannabinoids is one way to combat this problem.